Anybody Paying Attention Yet!!! Pope Francis Desires To Ride In A Small Kia In Korea & His Relatives Then Die In A Small Kia!!! How's That For A Bitch Slap! Damn! The Lot Of You Are Dense!!!!!!!!!!!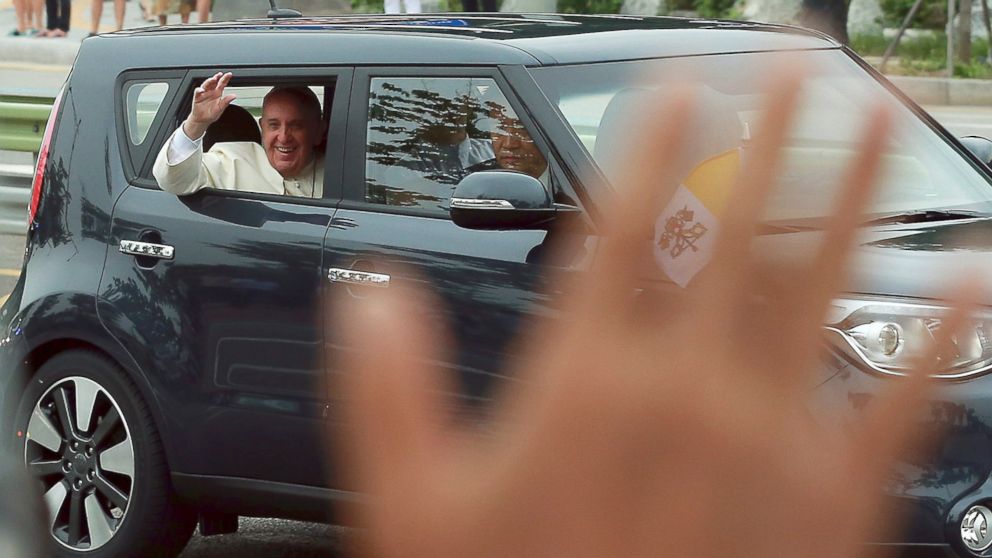 Pope Francis started his five-day visit to South Korea by making a public speech in English for the first time and riding inside a compact Kia hatchback. The pope read a 10-minute speech in English at the Presidential office in Seoul, noting Korea's lack of peace, challenges facing solidarity and reconciliation, and the need to educate the young. Although he did not directly mention North Korea, the references were clear, with his speech following an address by South Korean President Park Geun-hye, who dedicated most of her message slamming the North. "Catholics in North Korea had been stripped of their assets, religious leaders kidnapped and murdered," she said at the welcome ceremonial speech. The South Korean government is "trying best to follow the road of peace, instead of war and nuclear weapons," she stressed. "We trust the pope's wish is also a denuclearized Korean peninsula," she said.
ABC NEWS Read More>>>>>
(Vatican Radio)
Pope Francis has learnt of the tragic death of three of his relatives in a traffic accident in Argentina and is "profoundly saddened." The Director of the Holy See's Press Office, Father Federico Lombardi said the Pope had received news of the tragic accident and asks that "all those who share in his grief join with him in prayer." The victims were the wife of the Pope's nephew and her two young children aged 2 years and eight months. His nephew, Emanuel Horacio Bergoglio, was seriously injured in the accident.